Capital Community Radio
We provide wonderful music from those golden years of radio (1940's to 1980's). We also tell you what is happening in the local community. Find out more about us by exploring our website via the navigation menu on the top of the page.
If you have a comment to make about the music that we play, or the way that we operate, then we would like to hear from you.
We appreciate your feedback, which enables us to continue to improve and keep up with your expectations. All you have to do is to go to our Feedback page.
Our Testimonials page records what other listeners have to say.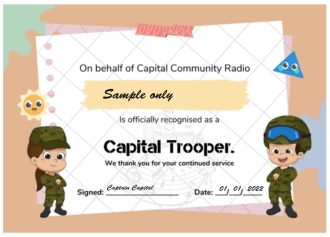 Our Capital Trooper Certificate is something that you may wish to obtain if your younger child or grandchild listens regularly to Capital Community Radio. All you need to do is complete this request form on their behalf, and we will do the rest.
(Please note: Generally, Capital Troopers are between 4 and 12 years old.)