Supporting Capital Community Radio
Capital Community Radio is run entirely by volunteers and depends on grants, donations and membership subscriptions for its operation. Your kind donation will help us continue to bring you the music you love to hear.
Membership
Capital 101.7 is dedicated to providing music from the golden years of radio throughout the day and night. We are staffed by a dedicated band of volunteers who donate their time and efforts to maintain the high quality of our music and information service.
Like all enterprises we do have the day to day running expenses to consider, as well as the replacement of essential equipment. By becoming a member you will greatly help us to 'keep on keeping on'.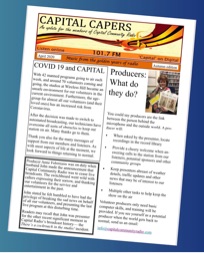 This not only helps us financially, but gives you the right to attend and cast your vote at our annual general meetings, and to be part of the decision-making process of Capital Community Radio, Inc. Members receive a copy of our quarterly newsletter Capital Capers.
---
Easy Membership Application or Renewal
You can download a Membership Application form or Membership Renewal form using one of these links and pay the appropriate fee prescribed in the table below, which are scaled depending on how much of the financial year remains.
---
Membership rates from 1 July 2022:
Annual
1 October to 30 June
1 January to 30 June
1 April to 30 June

---

Individual:
$36
$27
$18
$9
Couple (each):
$28
$21
$14
$7

---

Seniors card holders:
Individual:
$32
$24
$16
$8
Couple (each):
$25
$19
$13
$6

---

Small Business & Corporate (annual):

$100